Special Screening – WAITING

In Voice of Asia
Indian Film Festival of Houston collaborates for memorable evening
The Asia Society Texas Center was the venue for The Indian Film Festival of Houston's special screening of "Waiting," writer/director Anu Menon's second
Read More
Indian Film Festival of Houston Collaborates for a Memorable Evening
HOUSTON: The Asia Society Texas Center was the venue for The Indian Film Festival of Houston's special screening of "Waiting," writer/director Anu Menon's second feature film. IFFH, as the cultural organization is called, began in 2009 and was voted the Best Film Festival in Houston-2014 by readers of The Houston Press.
Read More
The 7th Annual Indian Film Festival of Houston
In HUM Magazine
The Indian Film Festival of Houston (IFFH) has been an annual event over the past five years, with every succeeding year,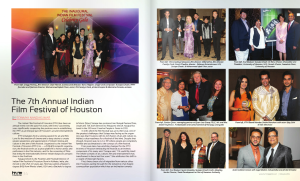 significantly surpassing the previous one in establishing the IFFH as an integral part of Houston's art and entertainment culture.
IFFH emanates from a strong passion for art and film. Love for the medium of cinema and a deep desire to create greater awareness and appreciation of Indian Cinema and culture is the aim of this festival. Organized by the Indian Film Festival of Houston (IFFH) Inc. ­— a 501(c)(3) nonprofit organization, the festival serves as a great platform to honor artists and performers in the film industry, and for the screening of films that bring the internationally diverse Indian diaspora's perspectives to the forefront.
HUM Magazine

All About 7th Annual IFFH, 2015
In Indo American News
HOUSTON: It was back in 2009 when Sutapa Ghosh established the Indian Film Festival of Houston (IFFH). Initially some people wondered whether the idea of having IFFH would really work or not because most of the Indians who made trips back home could have watched the films there and talking about non-Indians they are just aware of the Bollywood musicals nothing else. After all the struggles and hiccups finally IFFH was voted as the "Best Film Festival of Houston-2014" by Houston Press. IFFH today is stronger than ever, with audiences from the diverse cultural communities of our city. On March 3, 4, and 5, the 7th annual event was held at the Studio Movie Grill in City Center.
Read More